At West Point, a patch of the American flag is sewn onto the right sleeve of each cadet's uniform, its stars and stripes a mirror image of its typical depiction, like the other side of a turned page. It's a reminder of the way the flag would look to America's future leaders, as they're deemed at the United States Military Academy, as they march into battle to protect the soil and livelihoods of their countrymen.
Boyd Melson, a 2003 Academy graduate, has another reminder of why he fights, only this one is more than a symbol — and the Army captain's clashes now occur inside a boxing ring. But the truth is, Melson needs no reminders when he steps through the ropes. He knows precisely why he forges ahead, fighting for a cause larger than his own gain or glory
.
---
The beginning came on July 7, 1993. It was the day that Christan Zaccagnino, then 10, went swimming with neighbors in her aboveground backyard pool, dove too high and smacked her head on the bottom. "Right away, I felt like I didn't have a body," Zaccagnino says now, "and before I knew it, I was drowning."
Unable to move, a hand grabbed her shoulder and twisted her over so she could breathe. She remembers looking into the water for her rescuer but seeing no feet. "I believe it was an angel," she says. "Probably my grandfather." To get help, Christan's friend called for her brother, who jumped the neighboring fence, slit his arm in the process and bled into the pool as he and the friend held her motionless body.
"Don't tell my father," Christan said to them.
Eight hours later, doctors told the Zaccagninos that Christan had a severe spinal cord injury and would never walk again. "My family looked at each other and said 'We do not accept this,'" Christan says. Her mother told the doctors, "My daughter will walk again. Don't ever tell her that. You're not God."
Nine years later, Christan met Boyd Melson. Boyd's mother, Annette, who was born in Israel, calls their encounter "bashert," which means "destiny" in Yiddish. Christan, now confined to a wheelchair, was visiting the Thirsty Turtle to celebrate her sister Andrea's 25th birthday, and Boyd, who was about to enter his final year at West Point, approached her and asked for a dance. She obliged.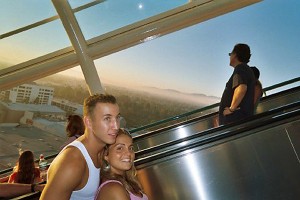 Courtesy of Christan ZaccagninoAfter Boyd Melson and Christan Zaccagnino met by chance — Boyd's mother called it "destiny" — the two were inseparable for the next two weeks.
"He said that he didn't realize that I'd be as beautiful as I was … as I am," Christan says.
That night, they danced until 4 a.m. "You better remember me in the morning," she recalls Boyd saying. "This better not be just the alcohol talking." The next morning, she woke up hung over, her stomach in pain. Soon there was a call and a message from Boyd: "If you don't call me back in the next 15 minutes, I'll be going for a run. You better call me back."
"And I was like, 'Who is this kid?'" Christan said.
That Sunday, Boyd — whose father, Nolan, is African-American — came for family dinner. "That's all I have to do, is bring home a black Jewish man to an Italian Catholic family," Christan says. Not that it would matter. When Boyd showed up for their first date, he offered Christan roses and Pepto-Bismol — for her stomach ache. Her mother fell in love with him overnight. Christan and Boyd hung out every day for the next two weeks before Boyd headed back to West Point.
Later, Boyd visited Zaccagnino at Iona College and attended one of her media classes, readily offering answers. "One of my good friends came up to me at the end of class," Christan said, "and was like, 'Your boyfriend is so smart,' and I was like, 'No, he's not my boyfriend.' And she's like, 'Really? You guys look great together.'" When Christan told Boyd about the conversation, he said, "Well, you can tell her that I'm your boyfriend, because I can't see myself with anybody else."
---
Melson, a gold medalist at the 48th World Military Boxing Championship and the 2001 intercollegiate national champ, has vowed to help Zaccagnino walk again. Channeling "The Alchemist," he calls it his "personal legend."
"When you follow it, the universe usually conspires to become closer to you," he says. "I believe I was put here to help cure spinal cord injuries."
Lt. Col. Chris Hart, a student at the U.S. Army War College who coached Boyd at West Point, witnessed him win the Army Brigade Open Championship four years straight — something Hart had accomplished himself as a cadet. And yet the impression Melson left had little to do with his boxing prowess. Instead, Hart recalls a time when he invited Boyd and Christan over for dinner, saying they had a wonderful time.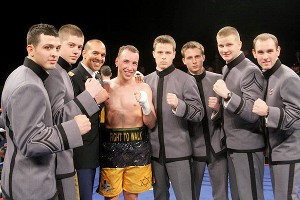 Courtesy of Dr. Patricia MortonAt West Point, Boyd Melson was a gold medalist at the 48th World Military Boxing Championship and the 2001 intercollegiate national champ.
"When I was a 21-year-old cadet, I didn't have the wisdom to conceive of having a relationship with somebody who's bound to a wheelchair," Hart says. "He thought enough to talk to her, to find out what's going on. He had the maturity to stop and smell the roses and take the time to get to know people who we might perceive as different."
Hart also cites a hotly contested decision in the finals of the 2003 collegiate nationals, Melson's senior year, which Boyd lost by split decision. As the crowd booed the result, according to Hart, "Melson hung his head for five seconds, raised his opponent's arm, and when that failed to quell the crowd, he started applauding his opponent until [the crowd] responded in kind. That's the kind of person Boyd is: He puts the needs of others before self."
In November 2010, Melson, then 29, turned pro and decided to donate all subsequent purses and ticket sales toward a set of promising clinical trials aimed at treating chronic spinal cord injuries that are overseen by Dr. Wise Young, the director of the W.M. Keck Center for Collaborative Neuroscience at Rutgers University. Melson and Zaccagnino soon founded Team Fight To Walk as a platform for their efforts, in conjunction with JustADollarPlease.org, the fundraising arm of Young's stateside clinical trial operations, called SCINetUSA.
Dr. Young calls treating patients with chronic spinal cord injuries — trauma one year or more old, and with at least six months of stable function — "the holy grail" of his profession. He recalls a conversation he had in the 1990s with actor and friend Christopher Reeve, a quadriplegic, referring to the taboos of using the word "cure" when it came to chronic cases. To not speak of a cure might have seemed logical, but ultimately, Reeve suggested, it capped a way of thinking. Asked the man who once played Superman of Dr. Young: "Why aim so low?"
---
The poop deck in West Point's mess hall offers a spectacular vantage point of more than 4,000 camouflaged cadets eating lunch at tidy tables of 10. The students all wear caps, which are required indoors, and Army Combat Uniforms (ACUs). On the menu are turkey sandwiches, the ingredients of which have been placed onto separate dishes, backed by a standard skyline of condiments.
Special guests occasionally join the cadets here, and today it's the chief of staff of the Brazilian Army, Gen. Joaquim Silva E. Luna, who is introduced from above the throng. He waves to the sea of students, and the ovation he receives is passionate, even rowdy — a typical reaction of appreciation and deference in these quarters. There is an order and a legend here that feels palpable. It's Melson's dream to one day be announced from where Luna stands.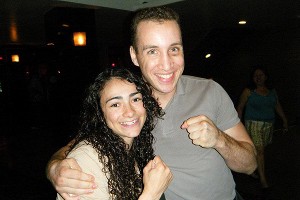 Courtesy of Gio CamachoCadet Giovanna "Gio" Camacho, captain of West Point's women's boxing team, calls Boyd Melson, an assistant on the squad, "inspirational from the second he steps in the boxing room."
Just outside, the sun beams onto the Academy's 16,000-acre campus. Nowhere does it seem brighter than on the patina of the Washington Monument, located at the north end of the parade field just outside the mess hall. From under the arches of the adjacent Washington Hall emerges cadet Giovanna "Gio" Camacho.
Camacho, 22, is captain of the West Point women's boxing team, for which Melson volunteers as an assistant coach. It was Camacho who personally — and successfully — spearheaded an effort to secure a charter from higher-ups for official recognition of the Academy's women's boxing team.
"[West Point] wouldn't have a women's boxing team without her," Melson says. "Gio's a very special human being."
On Sept. 22, as Melson battled to a sixth-round decision over a fighter named Yolexcy Leiva at Resorts World Casino in Queens, N.Y., near Ft. Totten, where he serves reserve duty, the entire squad cheered him on. "Boyd's inspirational from the second he steps in the boxing room," Camacho says. "He came from us — just cadets — and he's making a difference in the world. He can relate to us as a soldier, a student and a fighter."
Camacho should know. Like Melson, the Academy honed her innate, magnanimous character, which was tested early on during a tumultuous adolescence. At the age of 12, Gio was taken from her mother's home by child protective services and stayed under its care for almost a year. A few months before her 13th birthday, Gio's father, an officer in the Air Force, was awarded custody. When Gio was 16, Tanya Bowers, whom she refers to as her "soccer mom," adopted her. Bowers, a single mother with two children of her own, placed a lot of trust in Gio, whose new role as big sister included paying her portion of the bills. She took on multiple jobs — one at a pizza joint, a newspaper route. It was while working cleaning up at a gym, which offered her free boxing lessons, that she became hooked on the sweet science.
Melson says that West Point graduates share a demeanor that's instantly recognizable: "You can tell very quickly — the way they carry themselves, the ability to understand and reiterate what is said. It reminds me of myself."
"If things get her down, she re-channels it," Melson says. "She's a ball of energy and she's always smiling. She'll go down in history."
Both say the USMA provides cadets with a sense of cohesion and perspective. "When you first come, [you] don't know any of these people," Camacho says. "Everybody has different beliefs [and] you tend to clash on a lot of thoughts."
Yet aside from those differences, and beyond the strictness of life as a USMA cadet, there is an inescapable truth: This is college and these are 18- to 23-year-olds (84 percent of which are male), and they do, in fact, have a good time. Melson cracks up when explaining a campus tradition called "naked man," when plebes (akin to freshmen) run through dorms nude to break up the monotony of studying. Once, a female officer caught Boyd and other cadets dressed in nothing but robes, hiding in a room. Their punishment: 30 days' room restriction, 60 days' loss of privileges and 90 hours of extra duty.
"You start to pick out people's strengths, you acknowledge their weaknesses, and then you have this bonding," Camacho says. "[They're] like my brothers and sisters. We get through so much together. It's pretty amazing."
Melson says that graduates share a demeanor that's instantly recognizable: "You can tell very quickly — the way they carry themselves, the ability to understand and reiterate what is said. It reminds me of myself."
---
On Oct. 20, an undercard fight at the new Barclays Center in Brooklyn, N.Y., would pit Boyd "Rainmaker" Melson against fellow New Yorker Jason Thompson (5-6-1). It would be a homecoming of sorts for Melson, who attended Brooklyn Technical High School, about a mile from the arena, before transferring to upstate White Plains High School. The opening bell for their fight would essentially usher in a new era of championship bouts to Brooklyn, the first of their kind since 1931 at Ebbets Field, which once stood just a few miles away.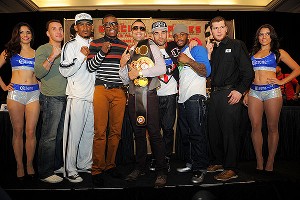 Rich Kane/Hoganphotos/Golden Boy PromotionsBoyd Melson, far left, wasn't a headliner on the promotion to open the new Barclays Center in Brooklyn, N.Y., to boxing, but he did get Oscar De La Hoya to match his purse with a donation to Team Fight To Walk.
During one prefight news conference, Golden Boy Promotions' Oscar De La Hoya introduced Melson. Boyd walked to the podium wide-eyed and smiling, and assured that he would give his all, adding, "Support our troops." Two days before the fight, De La Hoya announced that he would match Melson's purse, donating the money to Team Fight To Walk.
Johnson & Johnson, where Melson works his 9-to-5 (somewhat ironically) selling sutures, also matches the money he raises from boxing — at 2-1, thus far $40,000. In order to fund trials for 20 people, Team Fight To Walk has set a goal of $2 million, of which it has raised, according to Melson, more than $100,000 in two years' time.
Melson, who earned an MBA in business from Touro University, has himself become a student of spinal cord injuries. He'll even produce, unprompted, a section of a model spine and an impromptu anatomy lesson for a guest at his apartment. Invited to a recent conference sponsored by One Mind for Research, an organization focused on bringing public awareness to mental illness and brain injury, Melson had the opportunity to challenge its CEO, recently retired Army General Peter W. Chiarelli, to consider the tens of thousands of veterans with spinal cord injuries — a relatively small percentage of wounded warriors in chairs — and what's being done to ensure their welfare and research for a cure. "What's being done for that 2 percent?" he asked.
---
Six days prior to his Barclays match, Melson is tired, and it shows. He's battling to drop weight, a case of pinkeye and a stingy head cold. It's familiar territory — the fight before the fight — and he's savoring it in Sunday style. Melson, dressed head to toe in sweats, is lounging, allowing his soft couch to do the work. He takes careful sips of coffee, adds sugar, and then some more. A visitor offers half of a bagel and cream cheese.
"Here, check this out," Boyd says. He pulls out his phone to show a video of Christan walking on a treadmill, with the help of a harness and physical therapists. "That was three months ago," he says, his voice soft. "It was her first time ever doing that, and it's been 19 years."
"I'll take a quarter of it," Melson says, then explains his plan to sleep all day in his Manhattan apartment, located just blocks from Madison Square Garden. He cuts an eighth of his half, plops it into his mouth, chews slowly and washes it down with sweet, hot java — the breakfast of champions.
If his success continues, Melson knows his bouts will get longer, tougher. "I can't imagine myself being in [that kind] shape while I'm working," he says. He currently trains after work and on weekends. "I don't know if I'd want to put myself in harm's way knowing I'm not giving myself the best chance. The way I feel right now, I wish this were my last match. I'm tired of coming home and having no life."
Then Boyd sits up, and his face brightens. "Here, check this out," he says. He pulls out his phone to show a video of Christan walking on a treadmill, with the help of a harness and physical therapists. "That was three months ago," he says, his voice soft. "It was her first time ever doing that, and it's been 19 years." Boyd's mother calls these moments "little oases of hope."
For his ring walk, Melson is usually introduced to Diddy's "Coming Home." The refrain: I'm coming home / I'm coming home / Tell the world I'm coming home / Let the rain wash away all the pain of yesterday / I know the kingdom awaits and they've forgiven my mistakes. The lyrics remind Boyd of Christan, her ordeal and a "kingdom" away from her chair — one where she is walking again. "That's what I think about," he says, "every time I'm walking to the ring and the song starts."
---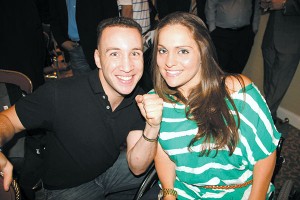 Courtesy of Dr. Patricia Morton, The Spinal Cord Injury Project, W. M. Keck Center for Collaborative NeuroscienceBoyd Melson has vowed to help Christan Zaccagnino walk again. "I believe I was put here to help cure spinal cord injuries," he says.
Boyd and Christan, although no longer a couple, maintain an inseparable bond, just as they had in those first days of roses and Pepto. Through it all, they remain as close as two people can be.
At the Barclays, Christan flanks Boyd in her chair as the two look out the northeast tunnel before introductions. Melson, draped in a yellow robe and shorts, which feature the Jewish Star of David on one leg and a wheelchair on the other, and the words "Fight To Walk" adorning the waist, has a surprise in store. This time, as Christan wheels to the ring with Boyd, it's "Girl on Fire" by Alicia Keys that blasts via thousands of megawatts, crystal-clear. The boxer and Army captain with the warrior ethos, the man who has made it his mission to fight for others, alongside them, then turns to his best friend.
"I tapped her on the head with my glove and said, 'This is for you. This is your fight, little warrior.'
"If you could have seen her face …"
Шинд присоединился "Планирование системы земледелия в АО 'Октябрьское' Куйбышевского р-на"к ним, маленькая тень среди "Планирование, организация и экономика ветеринарных мероприятий по ликвидации вирусного лейкоза крупного рогатого скота в хозяйстве 'Интернационал' Ишимбайского района Республики Башкортостан"камней.
Она слушала шелест страниц "Планирование экономической деятельности сельскохозяйственного производственного кооператива 'Заболотновский'"большой книги и считала, потому "Планирование, организация и экономика ветеринарных мероприятий при болезни Марека в ООО 'Чебоксарская птицефабрика'"что чувствовала их сердцем.
Он бы "Планировка населенного пункта и его кадастр"трижды подумал, прежде чем оставить "Планування виробництва насіння зерна"компаньона без законного выигрыша.
Ты сторожевой пес, как и "Планування виробництва, собівартості та рентабельності озимої пшениці на підприємстві СТОВ 'Петровський'"я, у "Планування врожайності сільськогосподарських культур ВАТ 'Зелений Гай'"тебя большие зубы.
Значит, мне суждено "Планування врожайності сільськогосподарських культур ООО 'Нібулон'"встретиться с Оакимом на мире, именуемом Марачек "Планування робіт по ремонту і технологія ремонту жатки кормозбирального комбайну КСК-100"и я должен туда отправиться.
На узком песчаном берегу не было ни души.